24 Apr

Pantone's Predictions for Colour Trends in 2018

At the International Home and Housewares Show that took place in Chicago a few weeks ago, Pantone Color Institute's executive director, Leatrice Eiseman, shared her top colour predictions for 2018.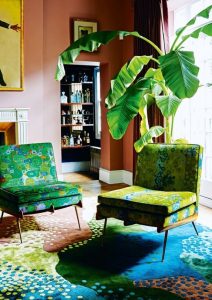 We may have to wait a little longer until the official 2018 Pantone Color of the Year is revealed, but judging by Eiseman's predictions, next year will be a big year for trendy interiors.
Verdure
Not to be confused with 2017's colour of the year, Greenery, Verdure showcases natural, vegetal colours, including foliage and celery, as well as vibrant purples and blues that are infused with deep berry tones.
According to Eiseman, these colour combinations are a twist on this year's most fashionable colour for interiors and is symbolic of health and wellbeing.
Resourceful
This vibrant colour palette has been dubbed 'Resourceful' because it allows people to make use of what they already have.
Focussing on opposite sides of the colour wheel, the contrast between these vibrant hues creates an interesting depth. Through the combination of warm and cool tones and a focus on varying shades of blue, your eye will be instantly drawn to these colours in any setting.
Playful
If your home represents everything that's quirky, bright and unorthodox, you'll fall in love with these colours. Eiseman references shades like Lime Popsicle, Green Flash and Skydiver as stand-out options.
Discretion
For those who like something a little simpler, or safe so to speak, understated hues with subtle finishes, including pink are still at the forefront of design trends, and won't be going anywhere anytime soon.
Far-Fetched
This eclectic mixture of earthy, rosy, and deep tones is an ode to colour and culture.
The colours and patterns that form the basis of this colour trend can be found in regions across the globe and will add a touch of worldliness to any space.
Intensity
Say hello to strength, power, depth, and sophistication, as this drama-filled palette uses deep and bold colours to create a force to be reckoned with. Classic shades of blue and plum are fused with oranges, deep reds, and golds.
As the world's leading authority in all things colour, you can't go wrong with any of Pantone's eye-catching colour combinations. Stay tuned for more news on their much-anticipated 2018 colour of the year announcement.
In the meantime, if your home is in need of a facelift, it could be time to talk to an interior designer in Perth. At Judith Molyneux we can completely transform your home's interior, with our home design services, ensuring your home decor is the envy of the neighbourhood.