21 Jun

Get Your Dream Custom Kitchen Design in Perth

Whether you're building a new home or renovating your existing one, how you design your kitchen is an important consideration.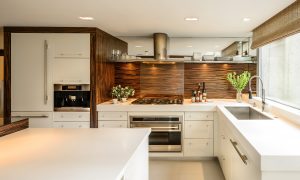 You're probably familiar with the age-old adage, 'the kitchen is the hub of the home', which, regardless of home design trends and our changing lifestyle habits, still rings true today. As one of the most-used rooms in your home that welcomes both family members and visitors, choosing the right colours, finishes and products is essential.
Here at Judith Molyneux Designs, we can help bring your kitchen design goals to life in your Perth home.
How do we do this?
We find out what you want from your kitchen, look at the latest kitchen design trends, and then use our industry knowledge and interior design skills to turn your basic kitchen layout into a functional and aesthetically pleasing design.
Choosing a Colour Palette
Your kitchen's colour palette is probably one of the most important decisions you'll have to make. Dark, moodier colour palettes are the in-thing at the moment and will most likely stick around for years to come. Dark charcoal and grey colour palettes will do the job and copper features will add extra depth.
Beautiful Finishes
Layered colours and textures will look great with any design, with 3-dimensional splashback tiles, polished mirror shine finishes and organic-looking wide timber flooring or timber look tiles adding visual allure.
Selecting the Cabinetry and Hardware
If you want to incorporate brass finishes in your kitchen, consider opting for navy-coloured cabinetry. Colour blocking will always be a good choice with cabinetry, and hands-free designs are big in kitchens with a minimalist vibe. However, if you want something warmer with a distinct country vibe, you can't look past the beauty of timber.
Have You Allowed Space for Storage?
To ensure your kitchen is as stylish as it is functional, make sure you include ample storage. Open shelving has become popular in recent years, but also try to make the most of your cupboard space with clever kitchen organisers, like shelf dividers and Tupperware.
Everything, Including the Kitchen Sink!
You might not realise this, but the kitchen sink you choose can have a big impact on the style and appearance of your space. You could use coloured composite granite with matching mixer taps, or maybe a black and white square sink will better suit your minimalist style.
Other options include metallic sinks and matching taps, with finishes in brass, copper or gun metal.
Kitchen Tiles and Splashbacks
Kitchen tiling is a staple in most kitchen designs, and for good reason, 3-dimensional tiles and colourful, large-format tiling will make your kitchen splashback a real focal point.
If you want to add texture, or some funky patterns into your space without going overboard, tiling is the way to do it.
Don't Forget the Appliances
What type of appliances will suit your space and blend seamlessly with the rest of your home? Maybe black matte appliances (fridges, ovens, range hoods, and even dishwashers) would add the finishing touches to your kitchen, or maybe your modern space would look best with sleek stainless steel appliances.
We can help you choose what's right for you!
With years of experience as an interior designer in Perth, we can assist you with your home décor, custom kitchen design and interior design needs anywhere in Perth. For our full range of interior design services, click here.
So, if you're ready to get started on your kitchen design project, contact Judith Molyneux Designs today!