02 May

Where Can an Interior Design Course Take You?

Whether you're looking at enrolling in an interior design course for personal or professional reasons, the knowledge and skills you obtain throughout your studies will be invaluable.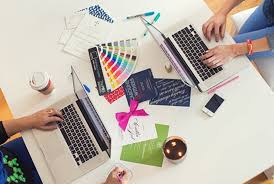 If you have a creative mind and relish the thought of using your theoretical and practical skills to completely transform a space, then a career in interior design could definitely be for you!
But, did you know that when you complete an interior design course, you're opening yourself up to a world of possibilities, not just a career as an interior designer?
Career Outcomes
Working as an interior designer will see you planning interiors based around space, colour schemes, and other design/decorative elements.
Once you complete your course, you may enter the industry straight away, or you could use your newfound design knowledge to pursue a job in a similar field, as per below:
Jobs directly relevant to your design specific qualification:
Interior and spatial designer
Exhibition designer
Retail visual merchandiser
Home design consultant
Colour consultant
 Jobs where an interior design course can be useful:
Architects assistant
Soft furnishing consultant
Furniture selection consultant
Lighting consultant
Home finishing consultant
One of the best parts about working as an interior designer, or in a similar field, is that you won't necessarily be glued to a desk all day. Depending on what type of role you end up in, you could be travelling to meet clients to discuss their needs, or moving around a studio assisting clients with their design selections.
 Interior Design Employment Trends/ Conditions in Australia
The interior design industry has been experiencing steady growth over the past few years, a trend which is expected to continue throughout 2017 and into the future.
With an average income of $52,000 pa, based on full time hours, the labour force is spread between male and female employees:
Male full time: 31.7%
Male part time: 0.9%
Female full time: 37.9%
Female part time: 29.5%
As an interior designer in Australia, you could find yourself working in an office, workshop, design studio, or even in an interior construction space. You could be employed by an architectural firm or construction company, an exhibition centre or events management company, or even by retailers or theatre companies.
In most cases, standard working hours apply, with the majority of interior designers working Monday to Friday during office hours. However, some weekend or late night work might be required, depending on your specific role.
At Judith Molyneux Interior Design we offer a range of Professional Interior Décor & Design and correspondence Interior Decorating courses, all of which will equip you with the skills you need to kick-start your career within the design realm.
Contact us today to learn more about our interior decorating courses in Perth.